Consulting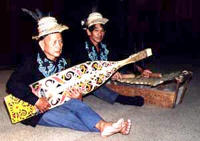 Randy worked with the Sarawak Tourist Board to create the Rainforest World Music Festival in Kuching, Sarawak, Malaysia, and to create, produce and present a concert of traditional Sarawakian music and dance at the World of Music Exposition (WOMEX) in Marseilles, France in 1997. He also worked as a consultant on Cirque du Soleil's production "Quidam", DNA Multimedia's CD-ROM "The Silk Road", and for numerous Government agencies in Canada and Asia. He worked with Korea Arts Management to assist major Korean artists to develop international tours.
Artistic Direction
Randy was the Artistic Director of the Rainforest World Music Festival, and the Borneo Jazz fesival in Sarawak, Malaysia for a numebr of years. He was the Artistic Director for the nationally televised Opening and Closing Ceremonies of the Western Canada Summer Games 1990 and the accompanying Royal Visit of Britain's Prince Edward. He also was the Artistic Director of the Music from the Pacific Horizon Festival series, and has assisted in the selection of artists for a number of festivals in Canada and Asia.
Lectures
Randy has lectured internationally on the topics of Music, Acoustic Ecology, Psychology and Creativity. These include the following presentations: " Korean Music in the International Marketplace", Jeonju, Korea, 2010; "Asian Mouth Organs, Headhunter Music" University of Foreign Studies, Tokyo, 2008, "Thai Instruments in Canadian Music", Payap University, Chiang Mai Thailand, 2004; "Chinese Influences on Contemporary Music", National Conservatory of Music, Beijing, China, 2003; "Music and Tourism", Awesome Africa Symposium, Durban, South Africa, 2001; "Music in Sarawak" for the Chime Conference, Prague, 1999; "World Music as an Educational Tool" NESA Conference, Cairo, Egypt, 1999; "World Music and the Traditions of Sarawak" Sarawak Museum, Kuching, Malaysia, 1997; "World Music Languages" Inter-cultural Music Conference, London, England, 1996; "Endangered Music, Endangered Life" World Soundscape - Tuning of the World Conference, Banff, Canada, 1993; "Contemporary Composition on World Instruments" University of the Philippines, Quezon City, 1987; and "Composition and Performance in North America" Srinakarinwirot University, Mahasarakham, Thailand, 1985.
Artist Support
Randy has acted as a mentor and advisor for emerging artists in World Music for over 30 years. He was a founder of the World Music mentoring programme for B.C. Festival of the Arts. He continues to assist traditional musicians and instrument makers from numerous cultures to maintain and preserve their art, while providing international opportunities to market their works. Recent projects of this nature have taken place in Malaysia, Korea, and Vanuatu. A number of artisits he has worked with have created international careers, some winning numerous awards, including Junos and Grammys.